Early on the morning of 12 Jan., Chris Current, the Chief judge at the Cavallino Classic sent a mass e-mail to the 50-odd Ferrari IAC/PFA certified judges, most due to be at Cavallino the next weekend. Chris wrote, in part, " I have been working with Canossa for some months with the draft list of potential judges and was shocked to learn a couple of days ago that five judges were not acceptable to Ferrari because they are independent sellers of used Ferraris in the U.S. and the U.K.  Ferrari and Canossa recently signed an agreement that has restrictions on the judges we can invite" Chris also wrote, "This has absolutely nothing to do with the quality of our judging or your integrity. As you know, every judge is held to the highest standard of behavior to avoid all conflicts of interest between what they do as a judge and their outside business". Chris added, "I personally regret the situation as we have established a long-term relationship with all judges such that you commit to being a judge if invited.  This includes adjusting your schedule and making financial commitments". Chris clarified the decision by writing: "Note that this applies only to the Cavallino Classic and has nothing to do with the IAC/PFA which is a totally independent body". In summary Chris wrote, "Again, I personally regret this situation.  It should not have happened and I will work to ensure it does not happen again".
Later that day Chris Current gave the list of judges excluded from the event which included Marcus Willis with Max Girardo & Co, Gaston Rossato with the Barn Miami,  Jordan Batson with DK Engineering, Gary Bobileff with Bobileff Motorcars and Michael Foertsch with M. Brandon Motorcars in Houston. How or why these five were picked as sacrificial lambs is open to question as many of the "other" Cavallino judges are engaged in the Ferrari sales, service or parts business at some level. As Gary Bobileff posted on FerrariChat, Francesca Messori, the Customer Care Specialist at Canossa had e-mailed him to state: " We can no longer have a non authorized (sic) dealer presence on the day of the concours" so the diktat came directly from Ferrari SpA and FNA.
Luigi Orlandini, the Chairman of both Canossa and Cavallino quickly went into damage control and, in part, explained in an e-mail to the judges "The recent editions of Cavallino Classic in Modena and Abu Dhabi were the first steps of a big plan to continue the growth of Cavallino, to attract the younger generations and to spread the culture and the love for Ferrari around the world". As a token compensation for the confusion Luigi also wrote " We are bringing a chef from Modena to prepare hand-made tortellini for the gala dinner, that I hope you will enjoy. And it's not just any one, it's the grandson of Enzo Ferrari's personal cook", so a payoff with pasta. Luigi further stated that: "At the Breakers, I will be happy to explain the reasons of this and other decisions and to share with you my vision for the future of one of the world's greatest car events".
For those who don't track the ever-expanding Machiavellian levels of politics in both the concours world and the Authorized Ferrari dealership network, Canossa is an Italian company based in Castella, just down the road from Reggio Emilia, Modena and the Ferrari Factory. Back on 09 Dec., 2020 Canossa had announced on their website that Canossa had acquired Cavallino Inc. As per the About Us page on their website, "We started out in 2011 with a team of just four people, but today we have 130 passionate professionals with an average age of just 32, running more than 250 events every year…". and further: "Canossa is constantly expanding and evolving with subsidiaries both in the United States (Greenwich, CT and Miami, FL) and in the United Arab Emirates (Dubai)".
Needless to say the small world of judges, FerrariChaters and those in the independent Ferrari sales, service or parts business lit up with e-mails and forum posts. Amongst the many opinions and rumors in the many chats back and forth was that, according to both Canossa and Ferrari, Canossa stated that Ferrari is their principal sponsor and that there was a list provided of 60 substitute judges (that could be available) who are new car salesmen at Ferrari Dealerships, not Concours-professional judges. There was also strong talk that cars that were not restored by Ferrari SpA would not be allowed to be exhibited. It was also suggested that Cavallino might be moved to Miami so that it could become part of the 06 May F1 raced scheduled for Miami next year.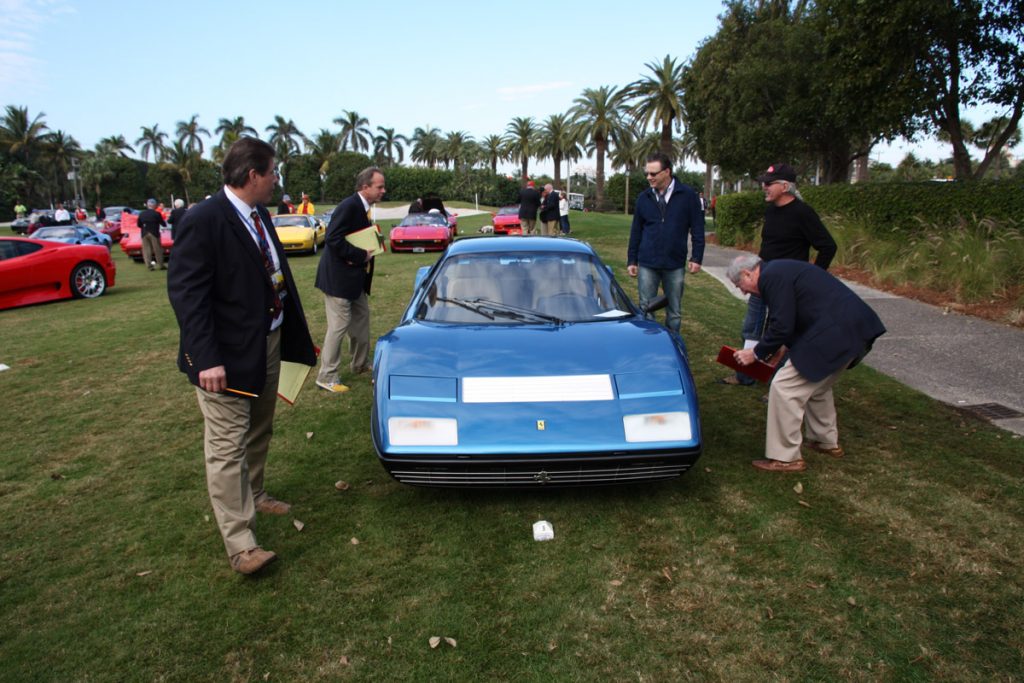 To understand the bigger picture, back on June of last year Motorsport Network, the parent company of Canossa, Cavallino, FerrariChat, the duPont Registry, Hammer Price and numerous other automotive companies and websites announced that they were launching the justRED.com website which they described as "the new, premier marketplace dedicated exclusively to Ferrari".  Motorsport Network and justRed.com would be "Leveraging existing peer-to-peer transactions within the FerrariChat community, justRED.com brings a unique solution to connect Ferrari buyers and sellers with a network of certified Ferrari dealers, offering an innovative transactional experience". Within the Motorsport Network announcement Luigi Orlandini wrote: "justRed.com is an incredible new venture. As a Ferrari collector, I see tremendous opportunity with this marketplace as the best place to find the car you are looking for and to sell your car to the right audience". Needless to say this explains why the first five independent Ferrari dealers and brokers were excluded from judging and why many of those still on the judging committee should be looking for the nearest exit.
Later in the day Luigi Orlandini posted on FerrariChat. "I'm NOT moving the event to Miami, Ferrari Classiche certification is NOT and will NEVER be required, my parent company has NEVER interfered with my decisions (we have a legally binding agreement and I will resign immediately in the unlikely case, so you will know), Ferrari SpA has NO connection with us at all".
But wait, the plot thickens, on Saturday, 15 Jan., RM sent out a press release announcing their global partnership across a portfolio of leading collector car events and confirmed that RM has become Canossa's primary sponsor and auction partner. Augustin Sabatié-Gara of RM wrote, in part, In the 40 years that RM has been selling cars, many Ferraris have crossed the block, from restoration projects to 250 GTOs, and we have been lucky enough to conduct many sales in Maranello in partnership with Ferrari S.p.A.
Like many on FerrariChat I see the heavy hand of Ferrari SpA all over this slow-motion car crash. As one of the excommunicated judges wrote on FerrariChat, the e-mail excluding him read, in part "And, as for "no connection to Ferrari SpA"… in the email from Canossa dis-inviting me as a judge, it was stated "Due to a recently signed agreement between Canossa/Cavallino and Ferrari SpA, we can no longer have non-authorized dealers presence on the day of the Concorso. So unfortunately we can not (sic) accept your commitment as a Judge for this edition of Cavallino Classic."
As one former Ferrari Dealership sales manager wrote to me in response to the pogrom, "The RM revelation about JustRED is only the most recent manifestation of FNA's efforts to control all new & used Ferrari sales.  Back in my day, we were told that they were going to put the independents out of business with 'exclusive' benefits only available at Ferrari dealers, like FNA financing (what a disaster that was), the dreaded 'Power' warranty (ditto) and forcing each dealership to close their website and only advertise their cars on the standardized 'official' Ferrari website…which was a POS".  He further added Bottom line, SpA has never given up on the quest to completely control the sale of all Ferraris, unrealistic as that may be, but with each small victory like this Cavallino boondoggle, they hope to eventually prevail:.   
A Classiche Red Book has been mandatory for any Ferrari entered in most of the top events in Europe, including both shows and auctions, and not just the 'special' auctions held at the Fiorano.  Further evidence of Ferraris heavy hand is in the new contracts in which Ferrari has insisted that all Ferrari Owner's Club member's personal data be provide to Ferrari, that Ferrari would become an "Autonomous Data Controller" and, in Ferrari's own words, "The Club shall allow a Ferrari representative appointed by Ferrari at its sole discretion (e.g. the local Ferrari Marketing Manager) (the "Ferrari Representative") to take part to each meeting of the board of directors of the Club and to each general meeting of the Club. In order for the Ferrari Representative to take part to the aforementioned meetings, the Club undertakes to send to the Ferrari Representative all relevant invitations (including documentation thereof) duly in advance". As one judge commented when I sent him Ferrari's list of demands, "The only thing missing in the Ferrari instructions of compliance is the signatory line where it should be signed " The Godfather".
None of this was a surprise to me.  As far back as 1992, when Luigi Buitoni was the new president of FNA he gave a speech to the board at the National Meet in Florida. In that speech he said Ferrari would open restoration departments at select dealers in the US and put the independents out of business. Buitoni mentioned me by name as the first person they were going to put out of business, so I've been on Ferraris radar for many decades.
Many years ago I was a judge at both Cavallino and the FCA Nationals until I was diagnosed with cancer in 2006 and decided I couldn't make the commitment, so I understand the dedication it takes to research each of the cars to be judged well before the event, to be at the judges breakfast meeting at 7:00 A.M., to be on the field by 9:00 A.M. and have a mere 20 minutes to judge each of the five or six cars usually in each class. Once completed the chief class judge must then review the inspection sheets, allocate the scores and turn them in before 12:00 which basically cancelled out half the day. While 2/3 of the event's judges are finished and given lunch by noon, the Chief Class Judges spend the rest of the afternoon closeted working out who gets the Special Awards. They are lucky if they escape by 4:30 to stroll around and see the other cars on display before they start leaving.  Been there, done that, understand the commitment.
While this omnishamble has yet to fully play out, perhaps Nembo 1777 summed up the long-term implications of this comedy of errors best when he wrote on Ferrari chat "within two years the event will collapse probably with a Miami beach Ferrari fashion show and zero classic Ferraris, in front of a clueless nouveau riche audience who bought the latest Ferrari to show off and never drive… the tragic destruction of a very special event…"