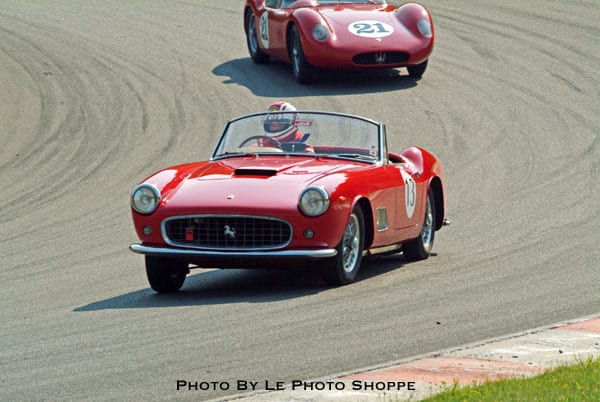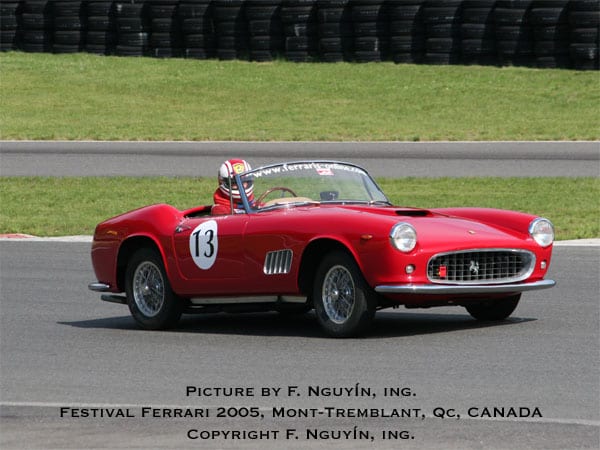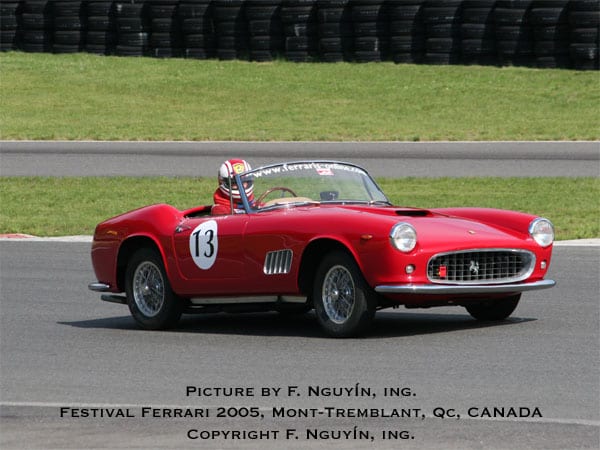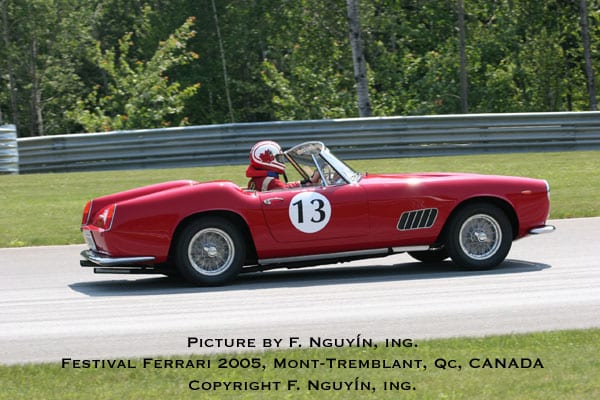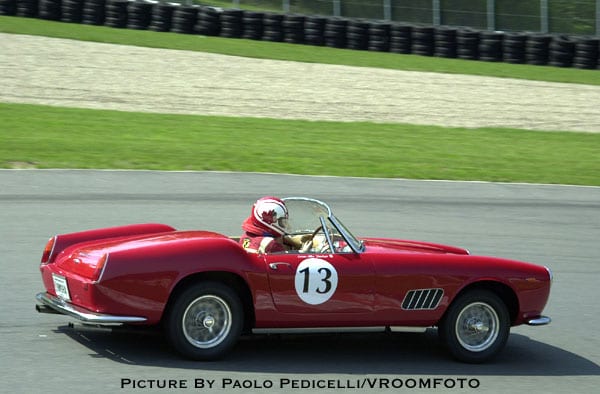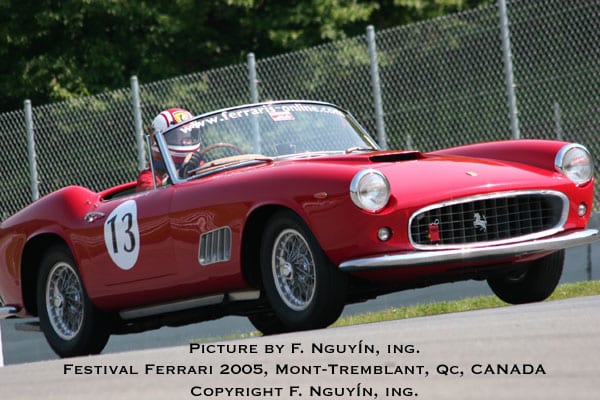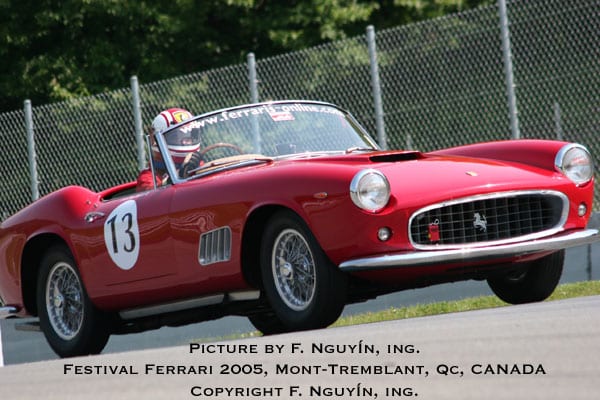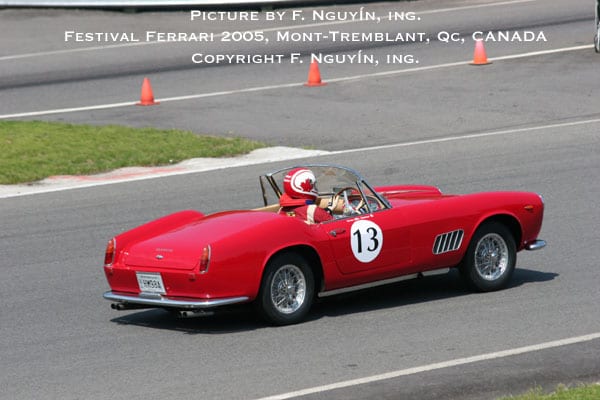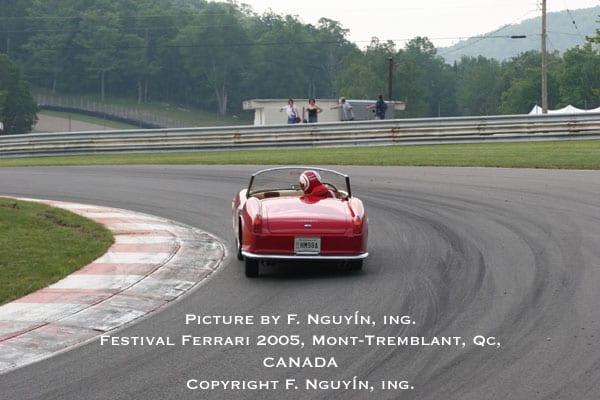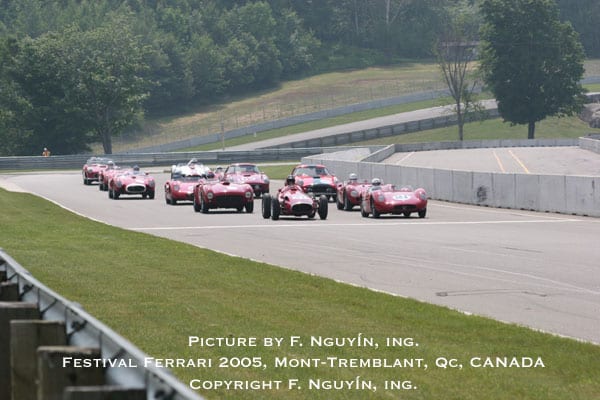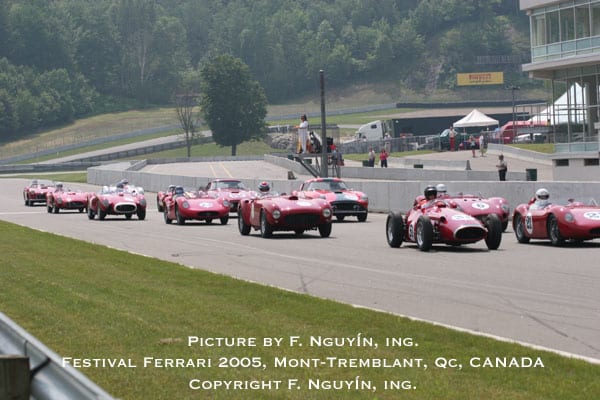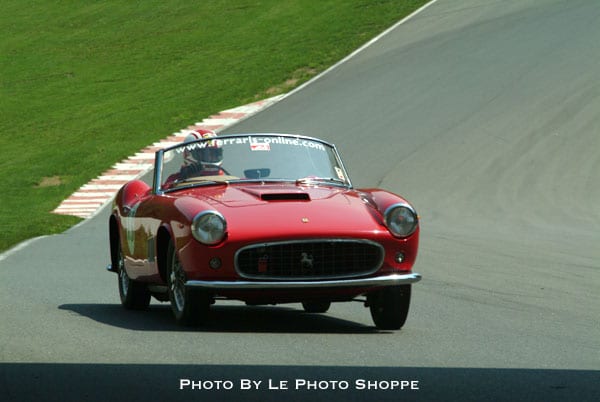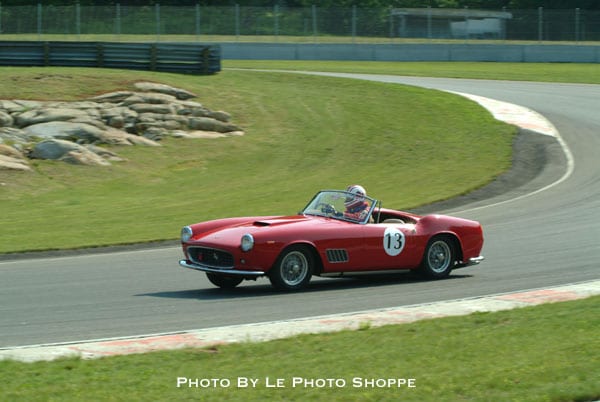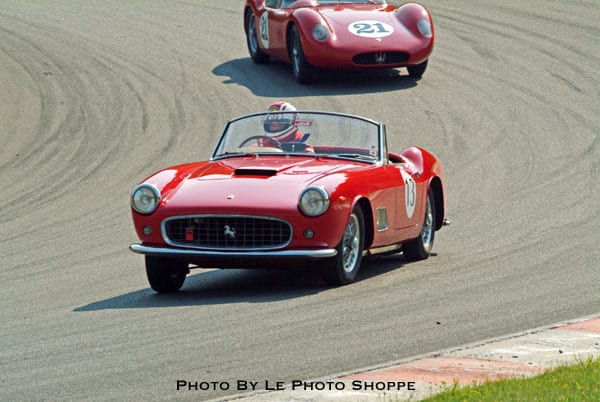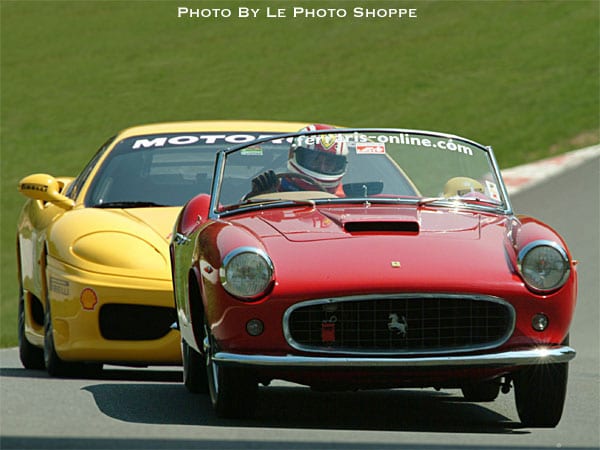 Start Date June 24, 2005
End Date June 26, 2005
Location Mont Tremblant, Canada
Car1952 Ferrari 212 "Speciale" by Drogo s/n 0147 E
ClassDrum Brake
Finish Overall3rd (in practice)
Le Circuit Mont Tremblant is one of the most beautiful race tracks in North America; in one of the most beautiful settings in North America, the resort and ski village of Mont Tremblant, Quebec, Canada, a 100 mile drive north of Montreal. No other North American track offers the high speed corners combined with the afternoon and evening immersion in another culture and down–time to enjoy the panoramic views, the great hotels, the fine restaurants and the friendly people of this very American–friendly village.
Friday was this author/driver's first meeting with his "new" Drogo bodied "Speciale" 212 s/n 0147 E, as I had bought this unique alloy bodied Ferrari Spyder based on photos and a pre–purchase inspection by Wayne Obry of Motion Products. With a recent $48,000 engine rebuild by Motion Products I expected 212 s/n 0147 E to be "bullet–proof" and it was.
Friday's practice went smoothly as the 212 was light to drive and the power curve was very smooth and linear. Unlike the author's much faster Daytona, the brakes on the 212 were more than adequate for the performance. The suspension was all–original and very soft, causing the 212 to sway when cornering like a sailboat on a windy day. The soft suspension gave lots of feedback and was predictable and forgiving to drive. As a more–or–less stock 1952 Ferrari 212 racing against Ferrari and Maserati Sports racers from the late 1950s such as the Tom Price's 200 Si Maserati, Leslie Davis's 250 TR, Jon Shirley's 300 S Maserati, and Ed Davies' 375 MM I would have a great seat to watch the start of the race …
The class breakdown for the race helped, but not much, as my 212 ran in category 2, up against front engine drum brake Ferraris such as the 250 TDFs and 375 MMs. Saturday's practice went well and the race was uneventful. I could push as hard as I wanted or back off and relax as the closest car to me was the much faster Maserati Birdcage of Tony Wang. The closest cars in my class were the 250 TDFs of Bob Bodin and Peter Lesaffre, who quickly vanished over the horizon in a race of their own. The good news? The 212 was a pleasure to drive and totally dependable. Other than checking the fluids between sessions it never missed a beat.
On Sunday's practice I decided to push for a fast lap, at 2.47, only two seconds behind Tony Wang at 2.45 in his Birdcage Maserati, but … we had to catch an early flight home so missed the race. While it would be nice to think I could have pushed more and caught the Birdcage, the reality was that it simply wasn't going to happen.