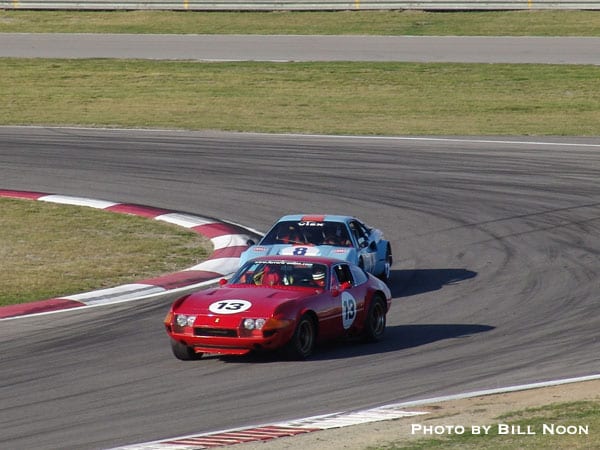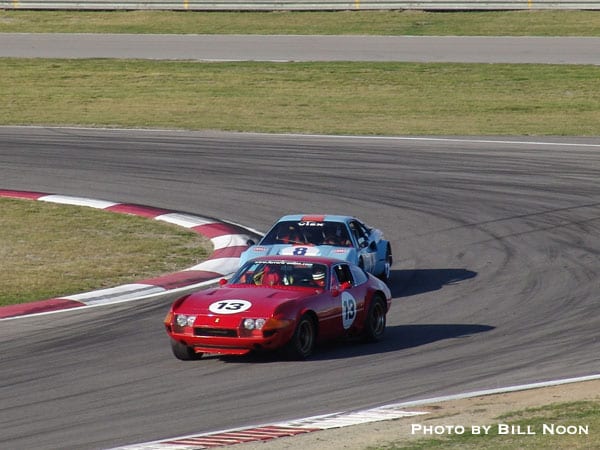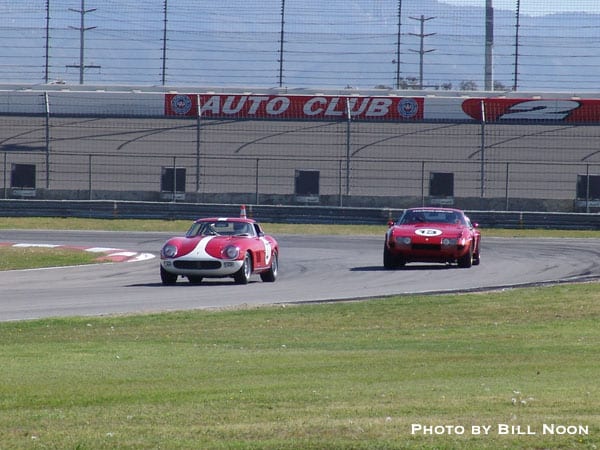 Start Date April 1, 2005
End Date April 3, 2005
Location California Speedway — Fontana, California
Car1969 Ferrari 365 GTB/4C Conversion s/n 12681
ClassDisc Brake – F4
Finish in Class2nd
Finish Overall5th
The first American race for 365 GTB/4C s/n 12681 was in the Ferrari Maserati Historic Challenge (Grand Am California 200) at the California Speedway at Fontana, CA., and I can confirm that a 365 GTB/4C is a handful to drive. With a street model 365 GTB/4 weighing in at 3600 lb, a steel bodied Series III Group 4 weighing in at 3200 lbs and an alloy body Series I car supposedly weighing in at a very optimistic 2700 lbs, Daytonas are heavy and weight kills handling, brakes, tires, gearboxes and out-of-shape or over-fatigued drivers!
365 GTB/4C s/n 12681 had been set up in Europe for rally purposes, so with springs, shocks and sway bars that were too soft for serious track use. Additionally, it was also on street legal tires, as required for some European events, but too slippery for serious track use.
Weighing in at 2990 lbs and with 462 hp at 7800 rpm and 335 ft lbs of torque at 6900 rpm giving a torque curve that looks like a Kansas horizon; power was not a problem. Indeed, it was all too easy to overpower the rear tires in 2nd gear corner exits in massive powerslides! To add to the excitement, brakes should be a non–issue in a race car but were THE issue, just to ensure I was paying full attention! While the brakes never gave out, they certainly never inspired confidence and required enormous braking distances.
As set up for the first race, the car had massive understeer in every corner, and the soft suspension caused it to unpredictability bounce and lurche, so the best driving technique was to toss it into corners. The trick was to wait for the car to move and then react after–the–fact and try to catch it, quickly. On tight corners and winding sections of the track, I was continually waiting to see what the car would do next, rather than focusing on going fast! I was over 29 seconds a lap behind the 512 M and 512 BBLMs, which race in their own much faster class; and 11 seconds a lap behind the 308 Michelottos, 250 GTO and 250 SWBs, which are more or less comparable cars and in my class. Those 11 seconds were a huge deficit, especially on a track where horsepower should help.
For the second race, we had disconnected the front sway bar so the understeer problem was neutralized and accepted that the brakes were, at best, barely adequate. The trick to fast laps was to stand on the brakes to slow the car down enough to trail brake into the corners and aim for the apex. Once aimed at the apex, it was hard on the gas and then come out of slow speed corners in 3rd gear, rather than 2nd gear, using the massive torque to aim–and–launch the car down the straights while trying to not overpower the rear tires. This improved times considerably, putting me a mere 22 seconds a lap off the lead and 6.5 seconds off the pack—not enough but a definite improvement.
The bad news was that the first race series at Fontana was really a three–day test day used to evaluate the car and make a long list of work needed. By Sunday's race, the gap was still 10 seconds off the pack! It was great to be back racing, but no fun to be so far off the pace.