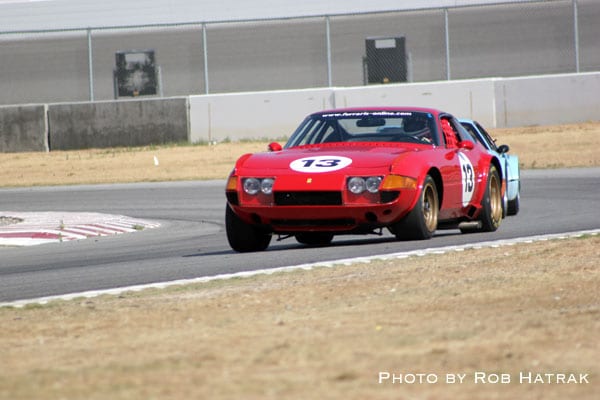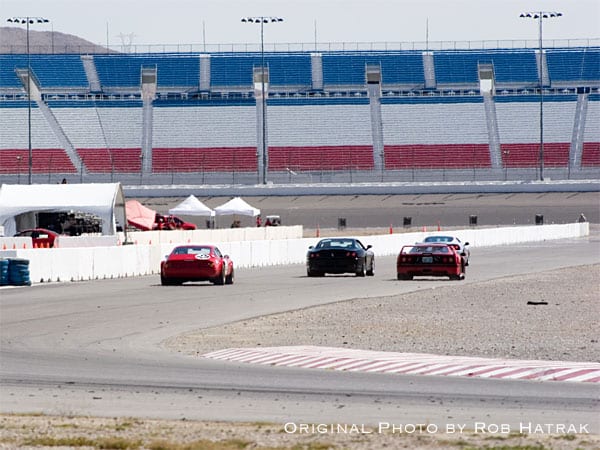 Start Date May 13, 2005
End Date May 15, 2005
Location Las Vegas Motor Speedway — Las Vegas, Nevada
Car1969 Ferrari 365 GTB/4C Conversion s/n 12681
ClassDisc Brake – F4
Finish in ClassDNF
Finish OverallDNF
DNS/DNF ReasonTransaxle
After using the first race at Fontana as a three day test session, we went back to the Motion Products West Racing workshop with a long list of new parts and changes needed for the next race at Las Vegas. The front sway bar was stiffened up from 22mm to 24mm and the rear sway bar from 20mm to 22mm, with the front sway bar now adjustable. The front springs went from 450 inch-Lbs to 500 inch-lbs and the rears went from 330 inch-lbs to 200 inch-lbs. The shocks were changed to aluminum Konis with an externally adjustable rebound and new Goodyear slicks were fitted.
Our 2990 lb Daytona was put on a diet and the 37 lb radiator was replaced with a 15 lb aluminum radiator; the 42 lb battery was replaced by a 15 lb racing battery and both heater cores, at 10 lbs each, were removed. Also out were the window motors at 3 lbs each; cooling fans at 3 lbs each; the blower fan at 2 lbs; the expansion tank at 3 lbs; both window frames and plexi windows at 11 lbs each; the air horn assembly at 5 lbs; and the list went on; giving a 170 lbs weight savings. Our new race ready weight? From a corpulent 2990 lbs to a svelte 2820 lbs.
We also had the largest "period correct" AP racing front calipers and standard Daytona rear calipers, as the vintage racing rule required. We added a 13/16 master cylinder for greater hydraulic advantage/pressure and added improved front brake ducting in an effort to preserve our fearless driver's life. Last but not least Motion Products fitted twin rev limiters, one set for 7400 rpm and the other for 7600 rpm, as power was not an issue and there was no reason to risk over-revving the $47,000 Carobu racing engine.
The results? Yeehaw!!! We went from 11-seconds-behind-the-pack at Fontana to 1–3-seconds-off-the-pace-and-gaining-fast results at Las Vegas. Even better, the gain was made on a very short, twisty track where the Daytona's horsepower advantage was minimal and the braking disadvantages were still huge.
In practice and qualifying it was possible to set up massive power-induced drifting exits onto the very wide front straight and launch down the front straight, passing every V-12 and Michelotto 308, but all could out-brake the still heavy Daytona, so the Daytona became very wide in the braking zone, shutting the door on anyone trying to make an out-braking maneuver.
In race one the Daytona was quickly up to 3rd place, but the mirrors were filled with the image of Dr. Stephen Dudley's lighter 308 Michelotto. In an effort to slow down quicker I started to use the gearbox to slow the car down, an expensive mistake. The synchros on 3rd gear were more than worthless and on the fourth lap I down-shifted to 3rd, the transaxle made an ugly (and expensive) sound and the race was over.
Back at the Motion Products West raceshop the transaxle came apart. The transaxle housing was one of Piet Roelofs' much-stronger-than-new cases and was undamaged, but literally every gear, every fork and every shaft in the gearbox was cracked or damaged from too many years of racing. The only major parts in good condition were the 8×43 rear gears. All new racing shift forks, a close ratio 4th and 5th gearset and the other needed gears, shafts and parts were flown in from Piet Roelofs' well equipped Dutch shop and we were soon ready for our next race at the very fast Mont Tremblant track in Quebec, where horsepower should be more important than brakes.
Cost for the 170 lb weight saving? About $15,000 or $88 a pound! Cost for the rebuilt transaxle? Yet another $15,000. Total cost to gain well over 8 seconds a lap? Priceless!