My Daughter Colleen and I were at Thunderhill raceway on 8-9-10 April with our 2010 Lamborghini Gallardo GT3 car s/n 09-7-1066 for the first race in the West Coast Trans Am Series. The Trans Am Series has been around since 1966 and today races at famed East Coast tracks such as Sebring, Road Atlanta, Lime Rock, Mid-Ohio, Road America, Watkins Glen and more plus Laguna Seca and Sonoma on the West Coast. In 2017, the new stand-alone West Coast Championship was added to the Trans-Am Series, running at Thunderhill, then with the National Series at Laguna and Sonoma then back to the West Coast Series races at the Ridge in Washington, Portland, Utah Motorsport park and with the National Series at the season's last race at COTA in Austin, Texas.
Trans-Am is split into the TA and TA2 classes for tube chassis silhouette racing cars, while its production classes are the GT (grand touring), SGT (super grand touring), and XGT (extreme grand touring) and Pro Am for SCCA GT1 and GT2 cars. The TA class remains the standard of North American GT racing and the flagship of the Trans Am Series with silhouette carbon fiber bodywork and a 366 cubic inch single 4-barrel carburated American V8 engines producing 850+ horsepower. Power is put to the ground through a 5-speed Sequential gearbox with a No-Lift Shift (NLS) systems and an "auto-blip" RPM matching systems for downshifting. Minimum weight is 2,780 pounds and Traction Control and ABS are verboten. Thanks to 850 plus hp the TA cars pass our Lamborghini like I'm chained to a stump
The TA2 class also uses a tube chassis with a silhouette carbon fiber Camaro, Mustang or Dodge Challenger body with a minimum weight of 2,830 pounds. The TA2 V8 engines use fuel injection with a Trans Am certified inlet restrictor plate good for 500 HP (plus) and 450 lb-ft of torque. Transmissions are "H pattern" manual units with 4-speeds plus reverse. Traction Control and ABS are again verboten. Both the TA and TA2 classes are very, very competitive and rubbing is racing, I was hit on both sides at Thunderhill yet was able to soldier on to the finish.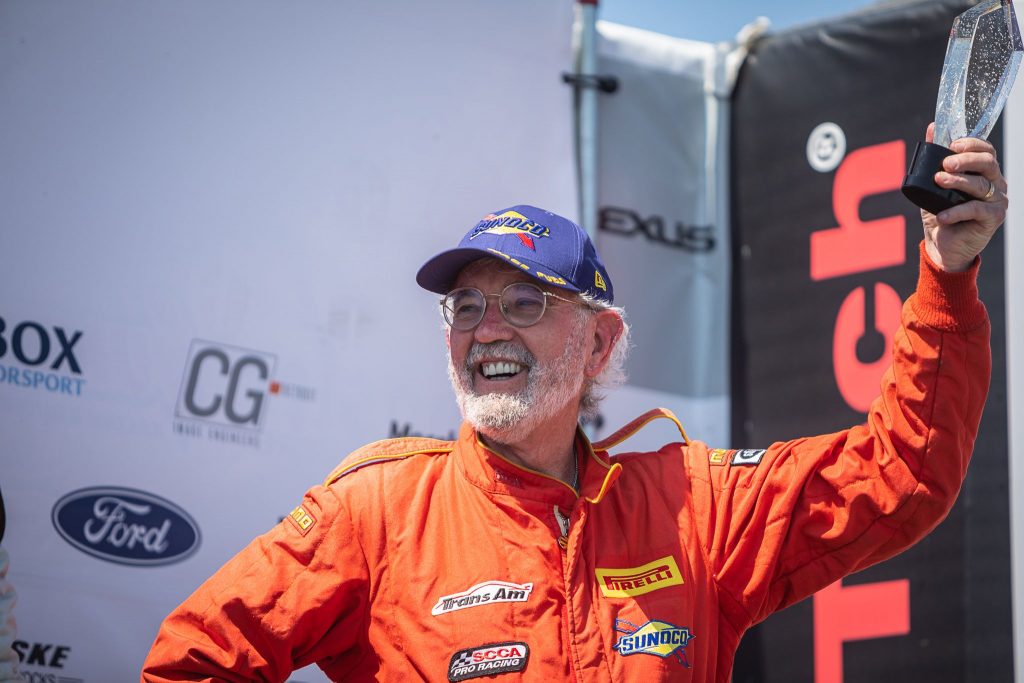 Racing a Lamborghini Gallardo may seem like an expensive endeavor, however in reality old GT3 cars are comparatively affordable. The FIA GT3 series was launched as its own series in 2006 as the FIA GT3 European Championship. Today Group GT3 has expanded to become the de facto race series for almost all national and international GT race series, with every manufacturer including Acura, Aston and Audi; Bentley and BMW;  Cadillac, Camaro and Corvette; Dodge Viper; Ferrari and Ford, Lamborghini, Lexus and Lotus, McLaren, Mercedes, Nissan and Porsche and a hoard of other smaller manufacturers competing globally.
GT3 cars are based on current road car models allowing for a wide variety of car types to be homologated with almost no limit on engine sizes and configurations or chassis construction or layout. Performance of all GT3 cars are regulated, either by the FIA or by a series' specific ruling body, by a BoP (Balance of Performance) formula that adjusts limits on horsepower, weight, engine air restrictors and aerodynamics to prevent any single manufacturer from becoming dominant in the class. GT3 cars are designed to have a weight between 1200 kg and 1300 kg (2645 lbs and 2866 lbs) with between 500 hp and 600 hp. All cars have a very similar power to weight ratio which is achieved either by high power and high weight such as the Mercedes-Benz SLS AMG or low power and low weight such as the Porsche 911 GT3. All GT3 cars also have traction control, ABS, and built-in air jacks for quick pit stops, making them very user-friendly. The GT3 series has become so globally dominant that both the German DTM Touring Car Series and the IMSA GTD Pro and GTD cars are now built to FIA GT3 specifications.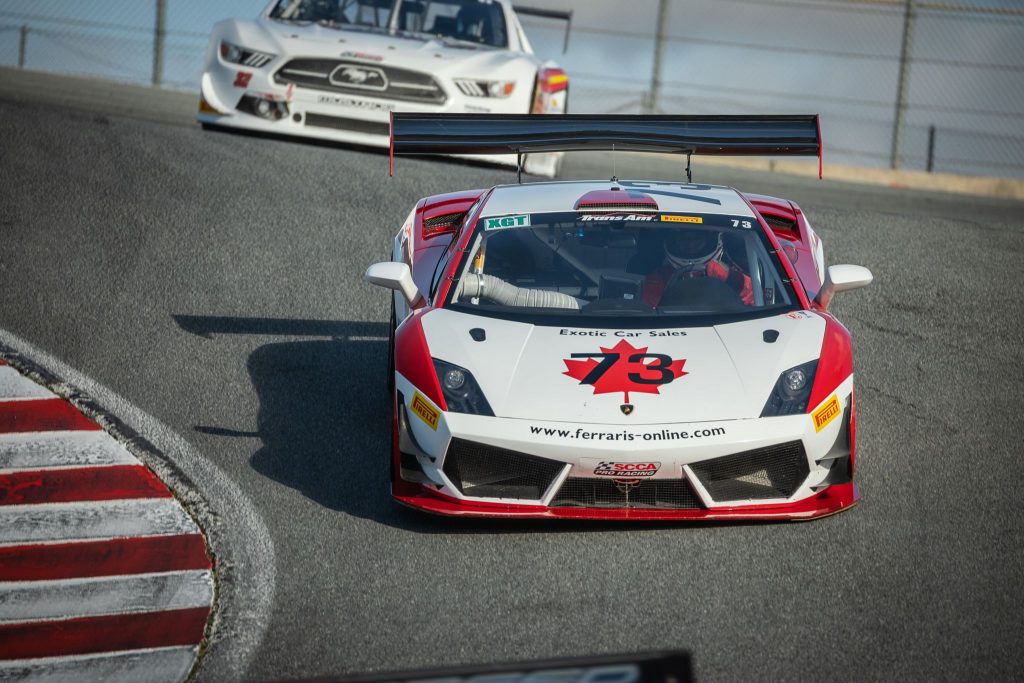 New GT3 cars have a narrow window of eligibility, the Gallardo GT3 was replaced by Lamborghini's Huracan GT3 in 2015 and so the Gallardo GT3 became obsolete. The Trans Am Series recognized that there were several hundred now-obsolete 2006-2015 GT3 cars in the US and all are technically sophisticated, reasonably priced, very fast and well sorted, right out of the box, The Trans Am XGT  (Xtreme GT) Class was created to give former GT3 cars a professional place to race. 
Because GT3 cars are delivered with a standard setup that is amazingly well balance out of the box, our Gallardo GT3 car s/n 09-7-1066 needed only new brake pads and rotors, a new seat and seat belts, a new radio system, a cool suit, a rear view camera and an VBox data recorder plus fluid services to be race ready. As per the Trans Am BoP rules the Gallardo's 600 hp engine is fitted with dual 53mm air restrictors to limit power and a chassis dyno confirmed we had a mere 420 hp with 315 ft lbs of torque to the rear wheels, equal to 480 at the flywheel, so we're easily passed by both the 850 hp TA car and the 500 plus hp TA2 cars. The XGT cars are a race within a race.

The West Coast Series car met with the National Series cars last weekend (22-23-24 April) at Laguna Seca and we were able to finish in 3rd in the XGT class, beaten by a pair of 2017 Porsche GT3Rs. The heavy April schedule continues this coming weekend at Sonoma where the West Coast cars will again run with the National Series cars running our race within a race with the TA, SGT and other XGT cars.  We then have six weeks off before going to The Ridge in Northern Washington in early June for the next round of the West Coast Championship.